Articles
Here are some of my articles on the topic of women, porn, sex and relationships... plus anything else I felt like writing about.
A History of Porn for Women
The development of porn for women, through the 70s from Playgirl to Candida Royalle and on to the websites, magazines and movies of today.
Top 10 Heavy Metal Crotches
Remember when metal meant tight pants, codpieces and bulging groins? I do, and I miss it. Here's my list of spandex superstars.
Top 10 Sexy Pirates
My list of the ten sexiest pirates in film. No prizes for guessing who comes first in the list, but there's a few other sexy pirate-types you may be interested to meet.
The Perversion of CFNM
How the porn industry got clothed female, naked male porn all wrong

Australian Women's Forum
A look back at this influential women's sex magazine
I Hate The Money Shot
Facials, cumshots... we HATES them!

Fashion and Clothing in Porn
High heels, awful makeup, miniskirts...

Tarzan and the Great Loincloth Adventure
I've always had a thing for Tarzan...
Songs About Female Masturbation
Jilling off has actually been a very popular topic in music...

My Thoughts on Naked Men
Why women love looking at images of naked men.

Couples Porn
Making porn for couples to enjoy together is a growing industry

Bisexuality
Are you bisexual? This article looks at the facts about bisexuality.

All About Cunnilingus
All about clit licking, muff diving and going down

Male Strippers
A look at male stripping in all its forms, and the CFNM craze

Sex Stories and Erotic Fiction
The appeal of the sexy written word

Reviews
A closer look at sex toys, movies and adult sites.

Featured Story
Sizzling erotic fiction written especially for women

Grandma Scrotum's Sex Advice
Wit and wisdom from your dear old Grandma

Porn Movies for Women
Reviews and recommendations of adult videos suited to women

Couples Gallery
Sexy couples kissing and making love
Hunks Gallery
Good looking guys taking it all off
Bright Desire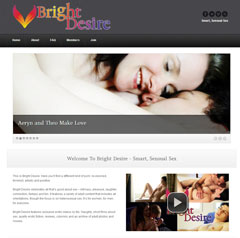 Bright Desire is smart, sensual porn for women and men. Featuring all of my videos and short films, it has real-life couples making love and sexy fantasy solo scenes. Plus my erotic fiction and new columns!
Click here to find out more about my new site Bright Desire!
Read More At For The Girls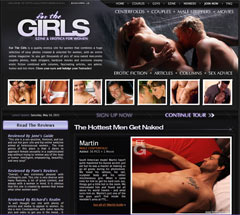 I've been writing articles, stories and columns for For The Girls since 2003. In that time I've covered some really interesting topics about sex and relationships. I've looked at BDSM, aphrodisiacs, contraception,abortion, tantra, STDs and orgasmic birth, to name just a few topics. I've talked to male escorts, sex bloggers, webcam entrepreneurs, strippers, vampires, porn stars, porn directors and heaps of other fascinating people. I've also gone on many adventures and videoed or written about them.
You'll find all these articles and movies in the member's area at For The Girls where you get access to the huge archive of reading material, photos and movies.