The Perversion of CFNM
Or: How the porn industry got clothed female-naked male erotica all wrong
CFNM stands for "clothed female, naked male". It's a fetish involving one or more men stripping off or being naked in front of one or more fully-clothed women.
Essentially, CFNM is about the power of the female gaze. The clothed woman holds the sexual power in this circumstance. The naked man is exposed to a woman's appraisal; he is the object and she is the one doing the looking. In a way, this is a reversal of the standard porn paradigm where it is assumed the audience is male.
CFNM can take on a number of different forms. In it's simplest guise, CFNM is about women being visually aroused by men. It's about looking at the naked male form and being pleased and aroused by it. Because the woman is clothed, she is not obliged to be involved in any sex, nor to become a sex object herself. She can simply look. Her pleasure is important, and her right to watch is affirmed.
There's a certain element of exhibitionism involved here for the naked men in question. Most of the guys who take part in CFNM sessions find it very arousing to be observed by women. There may even be an element of narcisissm involved.
CFNM can go a step beyond this simple interaction and involve a certain amount of erotic power play, or dominance and submission. There may be aspects of humiliation involved for the man, who may be "forced" to strip and stand naked. This mild element of BDSM can be arousing to both men and women.
CFNM is most popularly seen in the form of male strip shows. A typical situation might involve a male stripper getting naked at a bachelorette party, or a larger male revue held at a nightclub. The main elements are still there - the women admire, the men get naked and are the object of admiration. Of course, there's also a significant element of humor involved. Many women go to strip shows for a laugh. The guys may be turning them on, but that's no reason not to get the giggles.
So, essentially CFNM is a form of sexual entertainment for women. It gives primacy to women's pleasure and women's visual experience. Yes, the guys like it too, but on the whole, clothed female/naked male should be a form of porn for women.
Unfortunately, a lot of people in the online porn industry have seriously misunderstood the nature of CFNM. If you go looking for this kind of content on the internet you will most likely be presented with:
* Male stripper sites where the emphasis is on how drunk the women are and how they're so off their nut they'll give blowjobs or handjobs like the sluts they are.
* Male humilation sites that emphasise the BDSM aspect but still manage to lead to blowjobs and handjobs
* Sites where the women are still the object and only exist to service the male, even if they are clothed.
My main complaint with this "perversion" of CFNM is that the porn industry has taken something that acknowledged the woman's visual enjoyment and turned it into the same old sexist crap. They took a fetish that gave primacy to women's pleasure and turned the focus back to the male orgasm.
They even seem to have taken the fun out of male strip shows and turned them into sleazy booze fests where consent often falls by the wayside.
There are a few legitimate CFNM sites that aim to offer a more authentic version of clothed female, naked male. Many of these still cater to a male audience but they also acknowledge their female fans. Unfortunately these sites are often run by smaller companies and their voices are drowned out by the big names who are aiming for straight male customers.
Hopefully, as more and more women begin to embrace erotic entertainment, we'll see the emergence of real CFNM into the mainstream consciousness of porn.
The CFNM category at Ms Naughty Links
Recommended CFNM Sites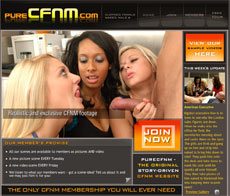 Pure CFNM offers quality and unique clothed female, naked male content. It's updated frequently with high quality movie content. They listen to their members and try to film any suggestions given.
Click here to find out more about Pure CFNM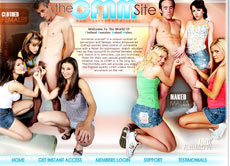 The CFNM Site really focuses on the story behind each scene and works hard to build the fantasy. I like the positive attitude behind it as well. The tour page says it hasn't been updated for a while but it's still worth checking out just for the quality content.
Click here to see samples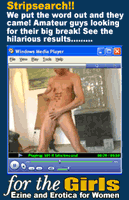 For The Girls has a fun selection of hilarious amateur male strip videos. Watch the guys as they attempt their best Chippendales impersonation.
Plus plenty of hot hardcore and male masturbation movies too.
Click here to see sample videos from For The Girls