The Top 10 Sexy Pirates
Johnny Depp as Captain Jack Sparrow
Well, it's obvious, isn't it? Captain Jack's devil-may-care attitude is sexy to begin with, but when combined with the good looks of Johnny Depp, he's perfect. Dreadlocks, goatee beard and black eyeliner are enough to send any girl a-swoonin'.
Cary Elwes as the Dread Pirate Roberts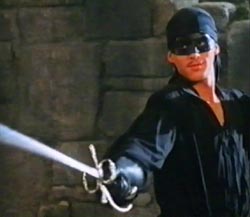 Inconceivable! The Dread Pirate Roberts, also known as the farm boy Wesley from The Princess Bride, is quite the sexy buccaneer. He's very deft with a sword, can climb cliffs with ease and has built up an impressive immunity to iIocaine powder. Then there's the mask, the black shirt and those lovely boots.
Errol Flynn (Various Pirates)
Any list of sexy pirates wouldn't be complete with out the original swashbuckler, Errol Flynn. He starred in numerous pirate movies including Captain Blood and Pirate Party on Catalina Isle and was recently voted best movie pirate ever in a poll by the World Entertainment News Network. Errol was the sexiest man of his time and had numerous affairs with famous women. We still say "in like Flynn."
Burt Lancaster as Captain Vallo
Yarrrrrr. In 1952 Burt Lancaster was swashing his buckle in an epic called The Crimson Pirate, set in the Caribbean, of course and involving all the usual piratey goings-on. I must admit, I haven't seen the film, but Burt got the nod from me just from this photo. Pic from here.
Kevin Kline as the Pirate King
Shiver me timbers! Look at how well Kevin Kline wears those thigh-high boots in this photo. That and the manly hairy chest are enough to get him a gong for his portrayal of the Pirate King in the 1981 film of the Pirates of Penzance.
John Phillip Law as Sinbad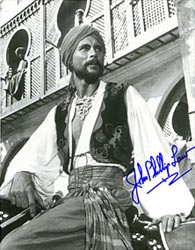 There's been a lot of movies about Sinbad the Sailor, and I gotta say, it's hard to choose which actor was the sexiest (even the Disney animated version was nice). I'm going with John Phillip Law in the Golden Voyage of Sinbad because of his pectoral muscles. This guy has got a great body (also beautifully on display in Barbarella) and the movie also starred Tom Baker who later went on to become Doctor Who. The pic is from here.
Tim Curry as Long John Silver
Tim Curry may be an unusual choice for this list, but he makes it due to personal bias on my part. Thanks to his portrayal of Frank-n-Furter in Rocky Horror, Tim Curry will always be sexy. He's played Long John Silver in Muppet Treasure Island and has also appeared in a film called Pirates of the Plain.
Martin Hewitt as Dan from Yellowbeard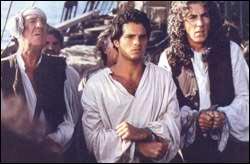 OK, so Dan is really a gardener at the start, but he's the son of the ferocious pirate Yellowbeard and he does get into a lot of piratey situations in the film. And he looks good in a pirate shirt. Actor Martin Hewitt is actually better known for his role in Endless Love and Two Moon Junction
Mel Gibson as Fletcher Christian
Cast your mind back to when Mel Gibson wasn't a crazed fundamentalist Christian with a passion for making really violent movies. Back in the day, he was a bit of a spunk and at the height of said spunkiness, he played Fletcher Christian in a remake of The Bounty. Now sure, the film isn't strictly a pirate movie, but it is on a ship and there is a mutany, so I'm going with that.
The Unnamed Well Hung Pirate Actor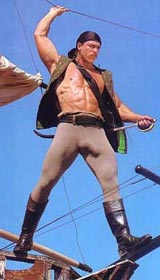 I've had this photo in my humor file for a very long time. It's named "Disney Worker" and it's most likely a hoax, but I don't have any more information about it. Except that it's damned funny.
Comments? Suggestions for more? Click here.