A History Of Porn For Women
Porn for women is sexually explicit material – photos, movies and written content – designed expressly for a female audience. It's sometimes known as erotica for women. This article aims to give a history of porn for women, covering the major developments, producers, participants and associated philosophies behind it.
Introduction and Definitions
First, to definitions because I've learnt the hard way that the term "porn for women" can sometimes upset people, so it helps to be clear what it means. Obviously porn means sexually explicit material designed to arouse the viewer - movies, websites, magazines, photos and books. With regards to the word women, it helps to be specific. In this case I'm talking about heterosexual cisgender women, mainly because that's where I've focused my research and career. Also because that's the commonly understood group for whom the word "women" applies.
That little word "for" is also important. It's all about defining and pleasing the audience and that's one of the main points about porn for women as a genre. I like to think it's not about content; rather, it's about making a space and speaking to a specific audience, about acknowledging women as an audience, validating their experiences and fantasies.
In the last couple of years a more useful term has emerged, that of the female gaze. This is the idea that all media inherently includes a gendered point of view. A great deal of the media we consume assumes that the audience is male or gives priority to the male viewpoint. That's why using sex to sell things usually involves a sexy woman, not a sexy man.
The female gaze takes the opposite perspective and gives priority to women. It makes assumptions about what the female viewer wants to see and ignores the point of view of the men in the audience.
So. The history of porn for women really only spans forty years, at least in terms of our modern definitions of pornography. Just to give a bit of background, pornography as a concept is relatively new. Humans have been depicting erotic and explicit acts throughout history, from the Venus of Willendorf through to the murals of Pompeii, the prints of the Japanese and Kama Sutra.
It's really only in the 1800s that the idea of sexually explicit material as "obscenity" began to emerge. Inherent to this definition was the idea that porn was fit only for upper class men. Part and parcel of the concept of pornography was the Victorian idea that women needed to be protected from it because we're too delicate.
As photography emerged as the new gold standard for the creation of erotic material, the idea that porn was a man's domain became cemented in cultural consciousness. Photos of naked women designed for a male audience, often with an impersonal focus, became the stereotypical idea of what porn was about. Tied to this was the double standard and the cultural expectation that women just weren't very interested in sex.
Porn for women is a relatively new concept. For most of the twentieth century it was assumed that women were not interested in graphic depictions of sex. In Sexual Behaviour in the Human Female, Dr Alfred Kinsey reported that 88% of women "never" responded to nude photographs. He concluded that:
"...many females find the male genitalia ugly or repulsive in appearance... there seems no doubt that these reactions largely depend on the fact that most females are not psychologically stimulated, as males are, by objects which are associated with sex."
He also said: "It seems likely that most females are indifferent or antagonistic to the existence of such material because it means nothing to them erotically."
Kinsey did, however, concede that "there are almost no male or female nudes which are produced for the consumption of females."
The popular belief that "women aren't visually stimulated" meant that very few commercial operations bothered to create porn for a female audience. It was generally considered that romance novels were the female equivalent of men's porn, and that slightly risqué descriptions of sex, with plenty of euphemisms thrown in, were all that women wanted.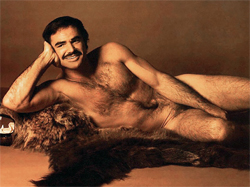 The 1970s changed all that. Women's liberation, arriving fast on the heels of the sexual revolution of the 60s, saw a new vision of women's sexuality emerge. Sexual pioneers such as Betty Dodson encouraged women to discover themselves through masturbation and Nancy Friday revealed the hitherto-unknown world of female sexual fantasy in her book My Secret Garden.
In April 1972, Helen Gurley Brown, editor of Cosmopolitan, took the unprecedented step of including a male centerfold in her women's magazine. The near-naked photo of Burt Reynolds heralded the start of a new age for women's erotica, one that aimed to turn the tables on traditional porn by offering photos of unclothed, sexualised men created purely for an admiring female eye.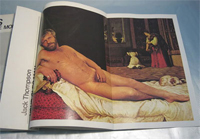 Australian women's magazine Cleo followed Cosmo's lead in November 1972 with a near-nude centerfold of actor Jack Thompson.
Numerous celebrity spreads followed, but, on the whole, male centerfolds in women's magazines did not normally feature full-frontal nudity.
Playgirl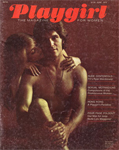 In 1973 Playgirl magazine, the female equivalent of the hugely popular Playboy, was launched. It promptly sold out of its print run of 600,000 copies. The first centerfold was Lyle Waggoner (Major Steve Trevor from Wonder Woman) in June 1973. Waggoner's spread did not feature full nudity and this resulted in complaints from disappointed female readers. Playgirl promptly gave them what they wanted with a fully nude George Maharis. The title has continued to provide full-frontal nudity in their photo spreads, except for a brief lapse in 1987 – a decision which saw the magazine's fan base collapse. The editors re-instated the nude in 1988.
Playgirl was the first magazine to concern itself primarily with female sexuality, often featuring articles on techniques, problems and sexual health. The magazine also featured erotica written by its readers, and photos of amateur men sent in by wives and girlfriends.
Despite the magazine being aimed at heterosexual women, Playgirl's editors admitted in 2005 that around 50% of the readership base were gay men. In 2010 a spokesman confirmed that the readership is predominantly male.
In 2003 Playgirl launched a pay-per-view TV channel, PlaygirlTV which featured erotic movies for women made by female directors. PlaygirlTV also went online in 2006 after having been legally prevented from doing so since 2000. Crescent Publishing, the company behind Playgirl, had been convicted of credit card fraud committed primarily through the Playgirl site and was thus not allowed to create a branded site for the magazine.
In 2009 the magazine stopped publishing its print edition, announcing an intention to focus on its website and movies. This decision was reversed in 2010 with the announcement that Levi Johnstone, Sarah Palin's ex-son-in-law, was posing nude for the magazine.
In November 2010 Playboy TV relaunched its cable TV channel with the aim of offering more female-friendly content.
Other adult magazines for women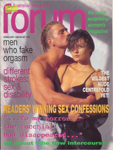 There have been a number of magazines for women that followed the Playgirl format. Australian Women's Forum offered male centrefolds and amateur men as well as articles about sex, erotic fiction and a Penthouse-style letters section. The magazine ran from 1990 to 2001, when increasing censorship and falling circulation saw it close.
In Britain, For Women magazine first appeared in 1992. It also featured nude male centrefolds, including several celebrities. The magazine ran for several years and was the subject of a number of academic studies into how women reacted to porn, but is now defunct.
In January 2004 the independently produced Sweet Action magazine was launched. Based in New York with a staff of four, the magazine aimed to offer an alternative vision of "porn for girls." The magazine folded after 4 issues.
In 2006 Gluck magazine arrived on the scene in Germany. The mag is run by two women, Nicole Rudiger and Elke Kuhlen. With a similar "indie" outlook to Sweet Action, the title features non-mainstream male models.
Scarlet magazine was a UK-based title that offered written erotica along with standard women's articles on health, fashion and beauty. It was edited by Emily Dubberly of Cliterati.com, an online erotica magazine, and ceased production in 2010.
Filament magazine - "the thinking woman's crumpet" - was launched in 2009 in the UK by New Zealander Suraya Singh. The quarterly magazine featured a variety of articles and pictorials of naked men. Suraya conducted online research into what women wanted to see. The result was a decidedly "un-beefcake" aesthetic with thinner males and moody lighting. Filament ran its last issue in 2011.
Candida Royalle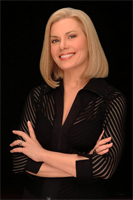 Ex-porn star Candida Royalle broke new ground in 1984 with the creation of her adult film company, Femme Productions. Royalle and her partners made Femme, the first porn movie made specifically for heterosexual women. The film offered seven vignettes depicting what Candida considered to be typical female fantasies, and deliberately went against porn dogma by refusing to include cum shots.
Released with no advertising, the film sold well, surprising various naysayers who believed that women would not buy porn. Two other films followed in 1985, including the award-winning Christine's Secret.
At time of writing, Femme Productions has released 17 films, including several with feature directors such as Annie Sprinkle and Veronica Hart. Most of her films feature storylines and realistic characters. There are less genital close-ups than standard porn, but more foreplay and emotional buildup. The focus is always on female pleasure and fantasy, even if the sex is relatively softcore.
"It is not necessarily explicit sex that makes a scene hot," Candida says on her website. "It is the energy of the two people involved: are they really into what they're doing? Are they honestly enjoying each other? Is there real heat here?"
The Femme films have been recommended by sex therapists as the sort of sex-positive erotica that couples should use together and they have been used as part of several experiments researching the responses of women to porn (see below).
In the last couple of years Candida has stepped back from directing with the aim of encouraging a new generation of female directors to create porn for women. Caribbean Heat, released in 2005, featured new talent Manuela Sabrosa behind the camera, with Candida taking on the role of executive producer. Afrodite Superstar (2006), directed by Venus Hottentot, is the first in the Femme Chocolat series that aims to create porn for women of colour.
Other porn movies for women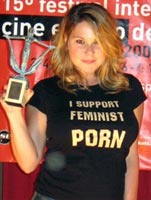 Since Femme first appeared on the scene, major porn studios have made little attempt to follow in Candida Royalle's footsteps. The "couples porn" genre is the token gesture made toward female viewers; these films usually offer a plot but the sex is formulaic and still very much made for men.
A number of female directors have stepped up to the plate with the intention of creating porn films expressly for straight women.
In 1997 Puzzy Power, an offshoot of Lars Von Trier's Danish film company, was launched. They aimed to make porn for straight women. In 1998 they made Constance, followed by Pink Prison. Their major film All About Anna was released in the US by Wicked in 2005
In 1999 Marianna Beck and Jack Hafferkamp, editors of Libido magazine, moved into film. Their first production, Ecstatic Moments, was aimed at women as well as men who wanted to see something different. They made another 3 films.
Sex educator Tristant Taormino directed her first adult film (The Ultimate Guide To Anal Sex For Women) in 2000 and has since gone on to direct a range of groundbreaking female-friendly films for major porn studios.
In 2004 Estelle Joseph used her own cash to create City of Flesh, a porn movie set in New York and based on her own sexual fantasies and those of her female friends. Stella Films Productions (formerly Red Light Interactive) have since made another five City of Flesh films, all created for a female audience. The films are vignette-style pieces with a distinct urban viewpoint, and the sex is hardcore.
Inpulse Digital was launched in the same year. Originally intended only as a pay-tv channel, it has morphed into a film production company. It's first feature was Velvet Thrust, starring porn star Julian. The aim behind Inpulse was to create porn "for women who love men." The idea was to shoot adult movies featuring good-looking male porn stars and ensure that the camera focused on the man, not the woman. Inpulse has since released two other films.
Producer and Director Nina Lennox – who has worked for Inpulse - has also created her own porn for women company, Lennox Films, and released a number of titles under her own steam, including Ranch House Lust. These films, like those of Inpulse, focus mainly on the male porn stars, although they do not feature female orgasms.
Spanish filmmaker Erika Lust made waves in 2004 with her short film The Good Girl, an indie porn movie for women. After meeting resistance within the porn industry to her product, she posted the film online for free in 2006 under a Creative Commons license. Erika has since created a major erotic production company in Spain and has several feature films and books to her credit.
British filmmaker Petra Joy released Sexual Sushi in 2005 and has since released 2 other features and a documentary. Other filmmakers such as Jennifer Lyon Bell, Anna Brownfield, Anna Span, Tina Tyler, Mimi Balfour, Nica Noelle and myself have all created films designed for straight women.
Since 2006 the Feminist Porn Awards, run by Canadian adult store Good For Her, has sought to recognise female-friendly and feminist adult movies.
Porn websites for women
The internet launched a revolution for women's porn. The twin benefits of privacy and easy access meant that women were able to access porn without embarrassment or harassment.
The first subscription porn site for women was Purve, launched in 1998 by an Australian webmistress. The New York Times called it "something of a cultural signpost." Purve featured photos of naked men culled from gay content providers, plus erotic fiction and articles. The site no longer offers subscriptions.
A number of other large online adult companies created their own websites for women, including Womens Porno and Just for Ladies, but overall the general view remained that women would not pay for porn online. A few subscription sites were actually gay sites masquerading as women's erotica.
Ladylynx, a linklist and portal appeared in 1999. This site aimed to help heterosexual women find porn specifically made for them. Kara's Links, another directory, has been online since 2002.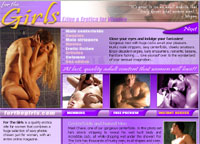 In 2003 For The Girls was launched. The site, run by myself and another webmistress, loosely models itself on Australian Women's Forum, offering a blend of sexually explicit content and a women's magazine. For The Girls features movies and photos of naked men as well as hardcore heterosexual couples, a smaller selection of diverse couples and kink along with erotic fiction, articles, reviews and advice.
My blog and link site Ms Naughty first went online in 2004, providing a linklist, ezine and blog – the latter offering the latest news and information about porn for women.
The internet has also proved a boon for women looking to buy porn videos and adult products. Female-friendly sites like Toys In Babeland and Good Vibrations offer women the ability to discreetly buy sex toys and adult movies online without stress.
Research into women's reactions to porn
There has not been a great deal of study into women's arousal patterns and response to stimulus, particularly when it comes to porn, but some research has been done in the last decade.
Candida Royalle's film Urban Heat was used in a research experiment by Professor Ellen Laan at the University of Amsterdam in Holland in 1995. She found that women responded physically to standard porn as well as Royalle's women's erotica, but their subjective reactions were far more positive and accepting with regards to the Femme film. Laan concluded that physical signs were not the best indicators of female arousal.
In 2001 Professor Michael Bailey conducted research into what kind of audio visual content women found arousing. He tested 29 straight female volunteers at Northwestern University, showing them a variety of hetero and lesbian porn and testing their physical reactions via a vaginal probe. He found that his volunteers became aroused no matter what kind of porn they were viewing and concluded that women would respond sexually to any kind of erotic material, not matter what their sexual orientation.
Researchers from the Stanford University School of Medicine in California found that women became fully aroused within two minutes of watching a sexually explicit film – faster than the average man. Twenty female volunteers aged between 20 and 30 were each shown a 22 minute erotic clip featuring two different hetero couples having sex, while their breathing and genitals were monitored. It didn't matter whether the clips had sound or not, the women still became aroused. The results were published in 2003 in the journal "Fertility and Sterility."
Porn for women statistics
· In October 2003, Neilsen Netratings revealed that 27% of porn users (around 1 in 3) were women. The statistics have been similar In subsequent surveys
· In 2011 preliminary research from a major study of porn use by Dr Clarissa Smith et al found that young women (aged 18-25) were more likely to use porn than males of the same age (more info here).
· In 2007, Nielsen Netratings found that 1 in 3 Australian porn viewers are women, with 4.3 million Aussies accessing online smut in May alone.
· In the same month, 13 million American women looked at online porn.
· In May 2006, Neilsen Netratings revealed that there'd been a 30% increase in the number of British women using online porn in the past year.
· A 2007 online survey by Adultshop.com found 52% of females said they watched erotic films to help them get "in the mood" either to have sex with their partner, or alone.
· In 2007 Esquire found that women surfed the net for porn an average of 11 and a half hours per week.
· In 2008 a book called The Sex Lives of Australian Women said that 1 in 4 will look at porn at least once a month.
· In 2009, Theresa Flynt, vice president of marketing for Hustler video, said that women accounted for 56% of business at her company's video stores.
· In 2012, a poll of over 500 French women found that 84% had watched porn, 50% of them on their own.
· 32 million women visited at least one porn site in January 2004 alone
· According to Internet Filter Review, 13% of women are accessing porn at work.
· A survey by Today's Christian Woman revealed that 34% of their female readers had intentionally indulged in porn
· According to a survey of over 77,000 people by MSNBC, 34% of couples in long term relationships have used porn to spice up their sex life
· In 1998 Media Matrix reported that nearly 20% of female internet users had visited a sex site.
· In a 1987 Redbook survey of over 26,000 female respondents, nearly half stated that they regularly used porn.
Modern misconceptions and debates about porn for women
Misconceptions remain when it comes to porn for women. A large number of people still maintain that women aren't visually stimulated. Many within the porn industry itself also believe that women will not buy porn, even if it does arouse them.
There's also debate as to what actually constitutes "porn for women." In the last few years, a perception has developed that women's erotica equals soft focus, "unthreatening", romance-based porn, with an emphasis on simple male-female intercourse.
This perception has produced it's own backlash. A number of women, including columnist Violet Blue, have said they are offended by the very idea of "porn for women" because it suggests that women are only turned on by softcore hetero sex and that they may be too fragile for more extreme sex acts. These commentators assert that, as women, they are turned on by many things, including hardcore porn, and thus the idea of women's porn is redundant, because it is impossible to identify what every woman wants.
Others have suggested that the vision offered by "women's erotica" is stereotypical because it relies on outdated gender roles and old-fashioned notions of romantic love. There is also the concern that the phrase makes assumptions about the audience and about the sexuality and gender of the women.
It's a fair comment. The very notion of one single pornography that all women will like is a nonsense, of course. Women are just as diverse as men in what they want to see; you can't define porn for women according to content. Not all women like beefcake centerfolds. Not all women want to perve at naked men. Some women want sensuality and kissing, others want rough sex or BDSM.
I've always worked with the assumption that women are put off by the sexist language and almost hateful portrayal of sex that appears in some gonzo porn. Yet I acknowledge there are women who get off on that kind of thing. A couple of years back the porn blogoverse exploded in an argument about whether gagging blowjobs of facial cumshots could be considered feminist. I think the final conclusion was that context makes all the difference: if the actress involved is enjoying it and the audience wants to see it, why not?
Porn for lesbian and queer women
While porn for heterosexual women has been making slow progress, erotica for lesbian women has been forging its own path, often emerging earlier and depicting a very different kind of viewpoint.
On Our Backs magazine was created in 1984 by Debi Sundahl and Nan Kinney, assisted by sex columnist Susie Bright. It's purpose was to offer sex-positive erotica for lesbians and to offer an alternative to the anti-porn feminist agenda of the time. The magazine underwent a publishing hiatus in 1994 due to financial difficulties but resumed in 1998 and is still going strong.
Fatale Media, owned by Sundahl, has produced a number of authentic lesbian porn titles including Hard Love and Turn Me Up, Over and On.
In Europe, Maria Beatty has been creating fetish and kink-themed lesbian films since 1995 and runs her own membership website.
Ssspread was an online lesbian porn site that offered hardcore dyke erotica – "hot femmes, studly butches, and lots of gender fuck." It closed in 2004 but the movies from the site are available on DVD in Full Load: Scenes from ssspread.
Scarlet Letters, run by Heather Corinna, has been online since 1998 and offers a queer-based selection of erotica and articles, although unfortunately it hasn't been updated since 2004.
Cyberdyke is a collection of subscription websites showcasing authentic lesbian porn. The photos and movies depict a variety of lesbian fetishes and fantasies, including some of the more hardcore elements such as BDSM and anal play.
Since 2005 there's been an explosion of erotic films made for lesbian and queer women. Directors such as Shine Louise Houston and Emile Jouvet, queer performers and website creators such as Madison Young, Jiz Lee and Courtney Trouble are really expanding the boundaries of porn, offering their own aesthetic and vision of what is sexy.
Shine Louise Houston has also expanded online with her site The Crash Pad Series and Pink Label DVD.
Canadian Bren Ryder also has a membership site called Good Dyke Porn.
Courtney Trouble has a number of sites that aren't specifically lesbian but queer. The oldest is NoFauxxx - now Indie Porn Revolution - which was launched in 2002.
Women and gay porn
Some women say their preferred porn is gay porn. The reasons behind this are varied: some say the men are better looking while others say that gay porn is devoid of the gender roles, degradation and power play inherent in much standard straight porn. There is also the appeal of watching men being intimate with one another, a sight usually denied women in a homophobic society.
.A now-defunct magazine called Syzygy presented gay scenarios aimed at a straight female audience. It featured "slash" fiction or yaoi - erotica featuring gay sex and male-male romances, a genre that is popular with women.
Feminist Porn
In the last few years the term "feminist porn" has come to be an inclusive catch-all for new-wave, independent, feminist porn productions. This includes porn created for a female audience. Many directors prefer the term "feminist porn" to "porn for women" because it is more inclusive and doesn't make any assumptions about audience, content or aesthetics. For a longer and more comprehensive discussion of the subject please read my article Fabulous Feminist Porn.
The future of porn for women
As more porn producers acknowledge their female audience and more women work behind the camera, a new kind of porn may emerge. Female consumers are starting to demand a wider diversity of content and more filmmakers, writers and photographers are attempting to articulate their own vision of what is sexy.
I keep coming back to the idea of the female gaze and defining the audience. It's that word "for" again. As long as you're making something specifically FOR women, then it's porn for women.
It's possible that the concept of "porn for women" may be redundant in the future. But I don't think we're up to that yet.
I also defend the phrase because it's still about making a space in a male dominated landscape. Women still feel alienated by a lot of mainstream porn. I like to use the term to raise a flag and gain attention. Here! Here's something that you might like, that at least talks to you and respects you. It may not be your thing but it's here if you want it.
Want to know more? Please visit:
Ms Naughty Blog
Bright Desire
For The Girls
Porn Movies For Women
Feminist Porn Guide
This article was originally written in 2006
It was last updated January 2013
Parts of this article were included in my presentation "Girly Smut: A History of Porn for Women" at the Erotic Screen and Sound Conference, February 2011 and also in "Making and Debating Porn for Women" at the Feminist Porn Conference, April 2013 (watch the video of that here)
Back to Ms Naughty Main Linklist Page