Male Strippers
Male strippers are a relatively recent invention. While female strippers and burlesque performers have a long history in Western society, the phenomenon of male strippers really only began with the advent of female liberation in the 1970s. Suddenly women had more freedom to express their sexuality, and the striptease business acknowledged the desire of women to ogle male flesh.

Perhaps the most famous male strippers are the Chippendales. These troupe of American hunks first began to perform in Los Angeles in 1979. Since then they've toured the US and the world, and their show has come to define what happens at a male stripshow. The extravaganza usually involves around a dozen muscular men performing individual "vignettes", stripping down to g-strings as they dance. This format has been copied successfully by other male revue shows such as Manpower.

There are still relatively few male strip clubs available for women to frequent. These clubs often take the form of bars with regular male acts - a format similar to standard female strip clubs. Some have been very successful, such as the 25-year-old ladies club La Bare which operates in Houston, Texas. The club features near-nude dancers most nights, with dinner and a happy hour available. The owner says he asked his female customers what they wanted, and they were more interested in a value-for-money, fun night out than anything overtly sexual.

It seems that for many women, seeing a male stripper is still something of a special occasion, best enjoyed with a few drinks and a group of friends.

Bachelorette parties and birthdays are still the most common occasions when women see a male stripper. While clubs or travelling revues are an option, often a professional one-off performer or "strip-a-gram" can be booked for private occasions.

There are some male stripper troupes who do take it all off. The British stripper group Serial Thrillas regularly strip to their bare skin, and often they encourage their female audience members to take a much closer look. These shows can become extremely explicit.

In 2003 an Australian reality TV series called StripSearch depicted an American-Idol-type talent quest for male strippers. Billy Cross, the creator of the original Manpower show, oversaw the selection and training of a group of everyday guys. The men were taught to dance, deal with screaming women, and made to work out for hours a day to meet the rigourous standard. The climax of the show was their debut performance at a casino full of screaming fans. The troupe went onto a successful career in Melbourne.

Male stripping became a mainstream issue with the release of the film The Full Monty in 1997. This movie depicted a group of unemployed English men who take up stripping to earn extra cash. Their promise of a fully nude show results in enormous ticket sales - and extra embarrassment. The film challenged the idea that a male stripper had to be muscular or excessively handsome in order to be successful. Instead, it celebrated normal male bodies, as well as validated the desire of women to look at naked men.

A different version of male stripping is the Clothed Female Naked Male fetish, or CFNM. This is where women gather to ogle naked men - male strippers, or simply exhibitionists who wish to show themselves off. CFNM is far more overtly sexual than standard male stripping. The man is encouraged to get an erection, and the women may touch him. CFNM celebrates elements of sexual power - the clothed woman has the upper hand, while the naked man is vulnerable and exposed.

CFNM and male stripper movies and photos are now increasingly available on the internet. There are numerous forums, fan clubs and groups devoted to discussing CFNM. And there are a number of large adult websites offering male strippers to a female audience. For The Girls features interviews, movies and photos of male strippers, including hilarious amateur attempts at stripping.
Male Strippers At For The Girls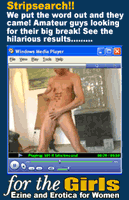 You'll be pleased to know that you can now watch male strippers take it ALL OFF. For The Girls features movies and still photos taken from actual male strip shows. You get all the excitement of a real strip show, complete with laughter, mistakes and full frontal male nudity!!! This is better than The Full Monty!

Then there are the Strip Search videos. What happens when you gather a bunch of amateur guys and tell them to put on an impromptu strip show in their living rooms? You get some hilarious results. Watch every day guys put on their best act while taking it all off!
Click here to see live male strippers!