Couples Porn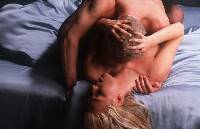 "Couples Porn" could be considered to be very different from your standard, garden variety porn. As the phrase suggests, couples porn is sexually explicit material designed for couples to enjoy together.
As the internet has expanded, porn has become relatively acceptable, and more and more couples are seeing it as a legitimate way to spice up their sex lives. This is where couples porn comes in.
Most mainstream porn is designed for the solo male viewer and caters to male fantasy. Perhaps too much of it is characterised by an aggressive or negative attitude towards women, and a real focus on the mechanics of sex.
Couples porn is different. For a start, it seeks to cater to both men and women, often with a view to them viewing the porn together. Because there are women in the equation, a lot of effort is put into presenting sex in a more positive light. There may be greater emotional depth and intimacy on display, as well as a more concerted effort to depict female pleasure. Porn movies for couples usually involve a lot more plot and characterisation than normal adult films.
According to adult shops such as the Penthouse Boutique in New York, around 50% of adult movies are purchased by couples. And cable companies make substatial revenue through the sale of pay-per-view adult films to couples renting hotel rooms for a naughty night.
Interestingly a lot of adult reviewers deride porn movies produced for couples as being boring or cliched. This is despite the fact that couples-friendly films consistently win awards for production and excellence. These same reviewers usually describe themselves as "raincoaters" and judge films on the number of positions and cumshots involved.
This is typical of many attitudes within the porn industry. It's still a male dominated business, and catering to women is still often seen as a waste of time. Indeed, a lot of "couples porn" is simply mainstream men's porn with soft focus.
Nonetheless, there are a few people out there working hard to create sexually explicit material that men and women can use together. A site like Couples Sex features thousands of couples photos, plus sections for men and women, and advice to improve the sex lives of couples.
Film producers such as Tony Comstock and Candida Royalle are working on creating vibrant, wholly different movies that depict realistic, intimate, emotional sex.
Hopefully the future will bring far more sex-positive couples porn into the area. This will mean that diversity within sexually explicit material will increase, and a broader spectrum of human sexual behaviour will be depicted in porn.
The Hardcore Couples Porn category at Ms Naughty Links
The Romantic Couples Porn category
Check Out For The Girls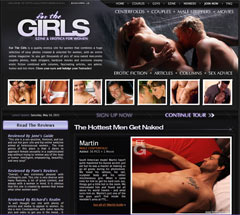 For The Girls is designed for straight women but it's also enjoyed by men - either those who are sharing the site with their partner or simply men who are after something a little different from porn.
The site has a huge archive of couples movies and photos and a large collection of of exclusive articles and erotic fiction.
"This site is a sex-positive, feminist, and out and out hot porn site. The true genius of this place is that it dares to approach female sexuality in a sophisticated way without trying to remove any of the heat or humor. Intelligent, empowering, beautiful, and very sexy!" - Review by Jane's Guide
Click here to check out the free samples on the tour.