Australian Women's Forum
+ A brief history of this groundbreaking women's magazine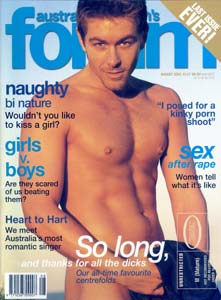 Australian Women's Forum was a popular women's magazine that ran from 1990 through to 2001. It was a sex-oriented magazine that featured naked male centerfolds and erotic letters. Australian Women's Forum (AWF) revived the tradition of the male centerfold after it had been abandoned by Australian Cosmo-clone Cleo several years earlier. Every month a new naked man was featured, along with a selection of amateur men who'd sent in their nude photos for the section "Australia's Most Studly". None of the photos of naked men could show erections, as this was against Australian censorship rules, so at times the editors would have to carefully measure the angle of the penis, to ensure the dick wasn't too erect.

Australian Women's Forum featured articles covering a wide variety of subjects. The entire spectrum of sex was covered - from orgasm to masturbation to positions to sexual fetishes. AWF also covered many serious women's issues, such as female genital mutilation, anorexia and body image, sexually transmitted diseases and cancer. It also featured erotic fiction, sex advice, reviews and interviews.

Australian Women's Forum was pro-body, pro-sex magazine from the beginning. It always maintained the rule that it would not accept advertising from cosmetic companies or feature diets. This allowed it to explore the hard issues without having to self-censor for fear of upsetting advertisers.

In its heyday, Australian Women's Forum had a circulation in excess of 50,000 copies per month. Those golden times saw the editors engage in some outrageous stunts, such as having a male stripper get totally nude at lunchtime in the middle of Sydney. And in 1996, Man of the Year Matt Dunk walked naked onto the Andrew Denton chat show.In later years, however, circulation declined. AWF's publishing company Horwitz reduced the magazine's budget.
At the same time, censorship increased under the conservative Howard government. When the magazine closed, editor Helen Vnuk cited ridiculous censorship as being a prime reason for the magazine's downfall. She said that the letters section could not feature the more raunchy letters, and that the "taming" of the magazine had meant readers were lost.
A prime example of this was when a serious article about labial cosmetic surgery was censored. The article featured before-and-after closeup photos of women's genitals, showing what surgery had been done. Censors forced the magazine to blank out these photos as they showed "too much genital detail". Meanwhile, magazines such as Cosmopolitan and Ralph are not subjected to such rigourous review because they aren't considered to be "sex magazines". You can read more about these kinds of bizarre guidelines in this radio interview.

The closure of Australian Women's Forum was a loss to Australian women. It was the only "mainstream alternative" to the diet and fashion conscious Cosmo-type magazines which dominate the market.

Happily, there is an alternative, albeit one in an online form. For The Girls is an online erotic ezine created in the spirit of Australian Women's Forum. Run by a former AWF freelance writer, For The Girls features many articles from AWF, along with new features about women, sex, health and relationships. And of course, For The Girls (FTG) has naked men. Because the internet is not subject to censorship, the new ezine has a huge selection of male centerfolds and most of them sport erections. As well as that, FTG also features explicit couples photographs and adult movies.

For The Girls continues the tradition that Australian Women's Forum created - one of a pro-sex erotic magazine that caters to women. It offers women an alternative to the mainstream porn which almost exclusively caters to men, as well as a source of information and entertainment.

More info about Australian Women's Forum:

A profile of Helen Vnuk, an editor of AWF - here,

AWF closes - news story

Info on censorship of Australian adult magazines - here.
The Women's Sites Category at Ms Naughty Linklist
For The Girls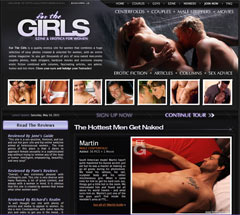 For The Girls was launched in 2003 by two female webmistresses who enjoyed porn and wanted to create a site that reflected their tastes. The result has been going strong ever since.
FTG offers a huge collection of naked men photos and movies, plus hardcore couples porn, erotic fiction, articles, columns, advice, reviews, real-life anecdotes, audio stories and lots more.
"This site is a sex-positive, feminist, and out and out hot porn site and hip online webzine aimed at heterosexual women... The true genius of this place is that it dares to approach female sexuality in a sophisticated way without trying to remove any of the heat or humor. Intelligent, empowering, beautiful, and very sexy!" - Janes Guide
Click here to find out more about For The Girls (and see hot samples)