Kink and Fetish Porn
Some enjoy their pleasures with a little bite. Or a few whips, paddles and chains. Kinky, BDSM and fetish porn can range from relatively tame to seriously hardcore. It can involve spanking, Japanese bondage, male or female submission or domination, pegging, sexual slavery, forced orgasm and more. It's not for everyone and of course consent and context are vital. The sites I'm choosing to promote here are known for their ethical or feminist practices as well as their top quality porn.
Premium Sites
The Upper Floor - Like one big ongoing BDSM fantasy, The Upper Floor is a 24 hour sex dungeon, conducted at the Armory in San Francisco. Complete with live shows, you can watch submissive women do the bidding of their masters. Lots of hardcore BDSM and orgy scenes with a distinct lush fantasy feel.
Madison Bound - Feminist Queen of BDSM Madison Young's flagship site gives members an inside view of Madison's sexual escapades, complete with regularly updated photos and videos.
Pandora Blake Dreams of Spanking - Fairtrade and ethical spanking porn from the UK, with lots of naughty scenarios including between real-life couple Pandora and Thomas.
Wasteland - Another top quality fetish site. Voted Best BDSM & Fetish Site two Years in a Row by AVN and The People's Choice Awards. Needless to say, there's heaps of content here.
Men In Pain - This is a hardcore female domination site from the people at Kink Dotcom. They really know their stuff! You'll find heaps of high quality pics and movies here as eager guys are tied up, spanked, flogged and humiliated by their mistresses.
Sex And Submission - This is the female version of Men In Pain, with willing women being on the receiving end. It's hardcore, but it's all consensual and they have some seriously good orgasms in the process.
Fetish Club - Run by a webmaster friend of mine, Fetish Club has been online forever, and it's huge! It boasts over 10,000 hardcore videos and over 100,000 photos along with plenty of written content. Good quality.
Everything Butt - A fairly hardcore anal site with lots of standard anal along with anal BDSM, rimming, fisting, insertions, enema play and medical fetish sex.
Fucking Machines - A favourite of mine. Horny geeks design machines with dildos and vibrators on the end with the aim of getting the models off - and they come, hard!
Galleries
Movies
Wasteland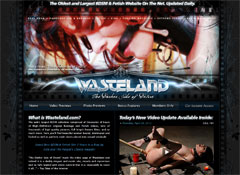 Wasteland is the oldest and largest BDSM and fetish site online. It is a broad-based kink site with almost every fetish catered for. It features content as diverse as pony play, cock and ball torture, trampling, flogging, shibari, medical fetish, facesitting, suspension and rubber. The site has thousands of high definition videos and exclusive photos.
Voted Best BDSM & Fetish Site 2 Years in a Row by AVN and The People's Choice Awards
"The Darker Side of Desire" reads the index page of Wasteland and indeed it is a darkly elegant and exotic site, moody and mysterious and so fully loaded with erotic content that it is impossible to cover it all..." - Top Sites of the Internet
Click here to find out more about Wasteland
The Upper Floor
This site is pretty extreme but I love the whole idea of it - a sumptuous building devoted to sex. You enter and are transformed, none of the usual rules apply. Here it's about submission and pleasure.
Top quality stuff from the the kings of kink in San Francisco.